Achieve Newsletter (3_of_6) for 2022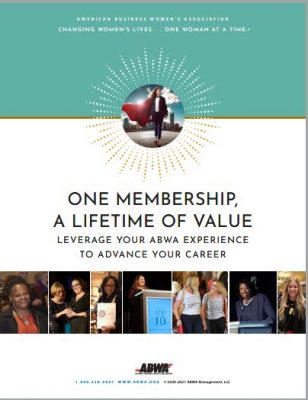 We would love to welcome you to the Raintree Chapter of the American Business Women's  Association.
Here are some of the benefits:
Professional Development
Membership Application Form Raintree Chapter
ABWA Brochure "One Membership, a Lifetime of Value"
ABWA offers learning opportunities through:
Regional and National Conferences
ABWA – KU MBA Essentials
ABWA – KU Management Certification Series
Leadership Development Programs
In-Depth Business Skills Training
Tuition Re-Imbursement for Approved Accredited Classes
Scholarships
Stephen Bufton Memorial Educational Fund contributed over $14 million to women's professional success thru education.
Recognition Programs
National Recognition: Top Ten Business Woman, ABWA Business Woman, Continuing Education, MBA Essential Graduation
Chapter Recognition: Top Ten Nominee, Woman of the Year, Business Associate, Protege Award
Networking
Making contact with business-sawy professionals also puts women ahead. But networking is an art that many people have not perfected. That is why ABWA has made teaching its members this career skill part of its mission.
Plus when you join an ABWA chapter or network, you automatically become a member of a ready-made professional network with unlimited potential for expanding your own network of contacts.